Topic: How did we get here? A Brief History
Fertilizer pellets on the sidewalk crunched like Rice Krispies beneath my feet
That statement from a Virginia State Senator was one of the main driving forces behind the creation of the Certified Fertilizer Applicator (CFA) program. While campaigning door-to-door in northern Virginia, he walked miles of sidewalks and driveways. "What happens?," he wondered, "When it rains?" He correctly surmised the pellets, along with the nitrogen, phosphorous, and other nutrients they might contain, invariably are washed into Virginia's Stormwater Management System and much of it eventually flows into the Chesapeake Bay. Once in the Bay, the fertilizer particles spread on Virginia sidewalks and driveways contributes to the declining health of that great body of water.
Concern for the Chesapeake Bay and other Virginia waterways led legislators to regulate fertilizer applications in urban areas, specifically applications on nonagricultural lands. Lawmakers believed lawn care fertilizer was a major factor in the Bay's health. They did not restrict their focus on fertilizers left on impervious surfaces – such as sidewalks and driveways. They also believed most of the fertilizer applied ran off the property and entered the stormwater system. The CFA program was their attempt to stem the flow of lawn fertilizers into Virginia' waters. The goal, keeping lawn fertilizers on the lawn where they were applied, was laudable but industry was concerned the resulting regulations would be detrimental to agronomic practices and proved a hardship for the industry.
Fortunately, the legislative process enabled science and the industry to impact the inevitable regulation. Industry representatives demonstrated the usage of sound practices that removed fertilizers from impervious surfaces and they expressed disdain for anyone who knowingly allows fertilizer pellets to be slung into water from rotary spreaders. Scientists explained the rarity of surface runoff of fertilizers as long as the product is applied properly: for instance, fertilizer should not be applied on frozen ground and not before a heavy rain event, especially on a sloping terrain.
This section of the recertification class presents a background of the CFA program. The next lesson will present specifics about the regulation and recent changes that affect applicators.
It is important to note that the regulations associated with the program do not apply to homeowners. That exemption is unique. Pesticides are required to be applied according to label directions. Homeowners are exempt from following the label when they apply fertilizers to their lawns.
In 2008 the Virginia Fertilizer Law (Va. Code §3.2-3600) was amended by Virginia's General Assembly to regulate the application of fertilizer on nonagricultural lands:
"The Board shall adopt regulations to certify the competence of (i) contractor-applicators, (ii) licensees, and (iii) employees, representatives, or agents of state agencies, localities, or other governmental entities who apply any regulated product to nonagricultural lands." (3.2-3602.1).
In 2011, the Virginia Department of Agriculture and Consumer Services enacted regulations to implement the 2008 changes to Virginia's Code. Thus, the Certified Fertilizer Applicator program began. (Regulations for the Application of Fertilizer Nonagricultural Lands (2 VAC 5 – 405).
The 2011 regulations for the application of fertilizer nonagricultural lands called for:
– Certifying applicators who apply fertilizer to nonagricultural land
– Specific training requirements
– Applicators to apply fertilizer in accordance with DCR's Virginia Nutrient Management Standards and Criteria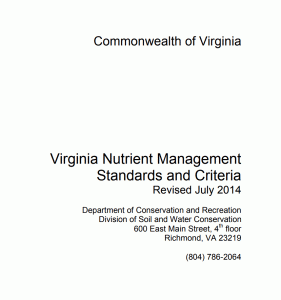 Tying fertilizer applications to the DCR was a major victory for the industry and for sound agronomic practices. The DCR manual is based on sound agronomic practices that protect the environment. The document can- and has – been updated as scientists improve those practices. Other states place specific regulations in the state code: (examples here). Changing those codes – and the ensuing regulations – is a tedious process requiring months or years of consistent effort. The slow change is a problem when scientific advances render requirements codified in the state codes antiquated. For instance, a few decades ago universities recommended applying 8-10 pounds of nitrogen per 1,000 square feet. Today, rates of 3-5 pounds per 1,000 square feet are the rule. The reduction in nitrogen applied does not cause weaker grass. Science discovered the higher rates were not necessary.
2011 Fertilizer Law was again amended
Defined two commonly used categories of fertilizers used by lawn care professionals:

Lawn Fertilizer – definition here
Lawn Maintenance Fertilizer – definition

Required fertilizer applicators to report acreage, by zip code, of nonagricultural land on which fertilizer was applied. (Reporting was only required for applicators who applied to more than 100 acres per year.)  EXPAND – no proprietary information disclosed. Nor are single properties identified
Prohibited the sale of lawn maintenance fertilizer that contained phosphorus (effective December 31, 2013)
Required the following statement on lawn and lawn maintenance fertilizer labels:  DO NOT APPLY NEAR WATER, STORM DRAINS, OR DRAINAGE DITCHES. DO NOT APPLY IF HEAVY RAIN IS EXPECTED. APPLY THIS PRODUCT ONLY TO YOUR LAWN/GARDEN, AND SWEEP ANY PRODUCT THAT LANDS ON THE DRIVEWAY, SIDEWALK, OR STREET, BACK ONTO YOUR LAWN/GARDEN.
Prohibited the sale of deicing agents that contained nitrogen or phosphorus (Effective December 31, 2013)
2020 Fertilizer Law amended
Decreased reporting requirement from 100 acres to 50 acres
Increased penalty for violations from $250 to $1,000 (EXPAND?)
Why the change in 2020?
Chesapeake Bay Watershed Implementation Plan (WIP). EXPAND
Determines how Chesapeake Bay states and D.C. will reduce nutrient and sediment runoff in the Chesapeake Bay watershed. Expand the big 3 and 2025 key year
WIP determines how Virginia will meet the Chesapeake Bay Total Maximum Daily Load (TMDL) related to nitrogen and phosphorus. EXPAND
Initial requirements in WIP focused on certification of fertilizer applicators and acreage reported to VDACS
Virginia receives TMDL credit for fertilizer applications to nonagricultural land
In 2018, EPA required that nonagricultural acreage TMDL credit must be verified. WHY? EXPAND. Looking primarily at records and legal status of persons applying fertilizers.
Summary
2008 Certification of fertilizer applicators
2011 Regulations established for certification of fertilizer applicators
2011 Fertilizer application reporting requirements for 100 acres or more
2011 Defined lawn fertilizer and lawn maintenance fertilizer
2011 Phosphorus restrictions
2011 Required the "Do Not Apply" statement
2020 Fertilizer application reporting requirement reduced to 50 acres or more
2020 Increased penalties up to $1,000
2020 Provided funding for additional VDACS inspector – focused on fer